Interviews
Interviews
Ernesto 'Mr Perfect' Hoost
From 'Ernesto Hoost Interview' - 1995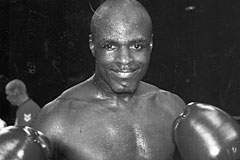 This is the man of 1994, the man who tamed the beast of Rick 'The Jet' Roufus. This man, Ernesto Hoost, is a soft spoken gentleman who has had some major achievements in the last few years in the ring. A humble man of big achievements, I enjoyed talking to this man.
MM: How are you?
EH: Good! Very good. And you?
MM: Great. First of all congratulations on knocking out Rick Roufus. It is very big news in North America. In fact, the next issue of the magazine will have you standing over Roufus while he is on the canvas.
EH: Thank you!
MM: When did you first start training in the Martial Arts?
EH: It was in 1981. I started directly with MuayThai in my home town of Hoorn.
MM: Have you trained in any other styles like Savate or others?
EH: During my career, I have done Savate. In 1988 I was the European Champion. In 1989 I was World Champion in Savate. It was my first World Title!
MM: When did you have your first fight as a competitor?
EH: It was in December 1983. I won by a 2nd round KO against Wim Scharren Berg. It was Thai Boxing rules without elbow attacks (International rules).
MM: What is your present fight record?
EH: 55 fights with 48 Wins and 7 Losses.
MM: What are some of the titles that you have won?
EH: In 1988 I was Dutch Champion in MuayThai. In 1988 I won the European Championship in MuayThai, Savate, Full Contact (ISKA) and Kickboxing (WKA). In 1989 I was World Champion in Savate and MuayThai. In 1990 I became a World Champion in the WKA for Kickboxing, and in 1994 I have won the ISKA World Title for beating Rick Roufus.
MM: Which of all your fights do you feel is the most noteworthy?
EH: The last one against Rick Roufus because the Full Contact ISKA rules are the most difficult for me. I very rarely trained these type of rules during my career, and my last fight before this bout was Thai Boxing. I have also fought against Jean Yves Theriault and the judges cheated me, I believe they cheated me. It was the first time I tried to regain the World Full Contact Title. The second time was two years ago against Rick Roufus. It was also shortly after a MuayThai fight for me. Again the change in rules was very difficult for me. The win over Roufus is definitely the crown on my work so far.
MM: Who has been your toughest opponent in the ring and why?
EH: Roufus. Again, as I said the rules were very difficult. Especially during our first fight, Rick was very difficult to fight because he moved a lot. It was very difficult to corner him or to come close to him.
MM: The first time you and Roufus fought was two years ago. What was the outcome of the fight?
EH: I lost by decision. The fight took place in Marseilles, also like this encounter.
MM: Who are some of your other biggest wins in the ring over?
EH: In 1989 I beat Branko Cikatic. In 1993 I won over Peter Aerts in the Japanese K-1. I had already beat him earlier in 1988 but that was at the beginning of his career and he was very young. I also beat Maurice Smith at the K-1.
MM: This is a rather delicate question, but who are your losses to and who of them have you never been given a chance to rematch?
EH: I've lost to Rob Kaman twice. The first time I was very young and very inexperienced. The second time Kaman knocked me out in the last round, though I was ahead on points. I feel it was a lucky punch because he got me in the right place with a hook that knocked me out. I might get a chance to rematch him but I have not had a chance yet! For me it used to be very necessary, because he was a very big name in Thai Boxing. But nowadays I don't need him anymore to make my name bigger. My name is big enough now. If a rematch will happen, then it is alright for me. I lost twice to Jean Yves Theriault. The first match was when I was very, very young and inexperienced and the match took place in Canada in 1986. It was only my 11th or 12th fight and he had well over 50 bouts! I was not ready to win that fight. The second fight took place in Geneva in 1989, and at the end of the fight I lost by split decision. Last year I lost to Branko Cikatic in the K-1. I think I was very unlucky because during this tournament I had the toughest competitors and Branko was still very fresh from stopping all of his opponents early. He did not face the quality of opponents that I did.
MM: In terms of Kickboxing and MuayThai, Europe is still ahead of North America. This is due to the fact that we are still very fragmented. A portion does Full Contact Karate, an equal or larger size of athletes does Kickboxing and a small and newer amount of fighters are now doing MuayThai. Who do you think is now a good fighter or fighters from North America? Who really stands out to you?
EH: Maurice Smith, but I think he is older now and I do not feel he will be fighting for much longer. He is not as good as he used to be. Rick Roufus. Although I have now beaten him, he is still a very, very good Full Contact fighter. He was a real champion in Full Contact. I saw Lavelle Robinson fight in Japan, and I think he is a fairly talented fighter in Thai Boxing. He can be a new name for North America. Peter Cunningham is not a bad fighter, but I have not seen him fighting for quite awhile. Benny Urquidez is also old. I saw his fight against Tagami and I thought he lost that fight.
MM: What about Don Wilson? Would you have liked to fight Don Wilson?
EH: Sure. For me there is nothing to gain out of it. These guys are old. If I beat him, they will say 'look, you can beat him now because he is old'. If a promoter would set up this kind of fight, I would for sure fight him.
MM: How do you feel about fighting with elbows? Do you like them or not?
EH: I have fought with elbows I think three or four times. I don't like it because you get nasty cuts with elbows. When you see the Thais fighting they are always trying to give you a cut to win by TKO. I do not think it is a good way to win a fight. When you knock someone out, it is OK. But when you give someone a cut with an elbow and win the fight, I would not be happy to win this way.
MM: In the United States there are some fighters who will fight using knees, but they say you cannot grab or clinch or hold onto the head when you are kneeing. How do you feel about this?
EH: Ha ha ha! I think this is a little bit ridiculous. It is very difficult to land a good knee without a clinch. It is possible if you are good in the knees you should be able to knee without grabbing. I think when you have the knees, the clinching belongs to the knees. It is very important for completing the knees and it is a part of MuayThai. I do not think it is very good to make rules when using the knees, not allowing the clinch. I believe the clinchwork takes away from the ability of a boxer and this may explain why Americans, who are usually good boxers hate the clinching. It nullifies their best weapons.
MM: Have you fought any Thai fighters? I know you fought Cheungpuek Kiatsongrit at Japan's K-2 last year.
EH: I have fought four Thais and I have beaten them all by KO. The first Thai was Feyoke. The second one was Tettitak. The third one was Sanmark. The fourth one was Chuengpuek Kiatsongrit.
MM: What are your favorite fighting techniques?
EH: Well, I feel I am an all around fighter. I used to have my low kicks as my favorite technique. Now I do not have a real favorite technique anymore because I have trained all my techniques in a way that I can do anything. I do not think I am known for any technique in particular because my knockouts have been made with my arms, my legs, and my knees. I do not feel like a one dimensional fighter. Hmmm! I like the right jab!
MM: Do you have any favorite fighters?
EH: I admire Ramon Dekker, and one of my fellow fighters in my gym, Ivan Hyppolite. He just won the Dutch K-3. I have very much respect for Rob Kaman. I think these three.
MM: Who has been the most influential person in your life?
EH: Fighting, my trainer Johan Vos. He has given me lots of opportunities to make very good fights. He has trained me excellently over the years. He fought in the beginning of Thai Boxing competition in Europe. I think he fought a few times. He is not real well known as a fighter but as a trainer. The advantage to have a trainer like Johan Vos is that he can do any kind of Martial Arts. He has trained Kyokushin Karate Judo, Jiu Jitsu, Aikido, all kinds of Martial Arts so you can learn a lot more than just the Thai Boxing from him. In life, My parents have always supported me in whatever I am doing and they are always behind me.
MM: What is your opinion on Full Contact Karate?
EH: The rules are difficult. It is not my favorite style. I like leg kicks, sometimes I like the knees. However, the rules can be acceptable to me, and I think the rules have to stay as they are for Full Contact. I think for MuayThai fighters it is a good way to train without the leg kicks to improve their skill and variety in the boxing techniques. It is not a big way of fighting in Holland, but it is a little bigger in France.
MM: What do you think of Kickboxing (with leg kicks)?
EH: I like this style. For me it is the important kind of fighting style. It is not quite as big as Thai Boxing in Holland but very close. These kinds of fights are only on cards that also host Thai Boxing fights. We never have tournaments that are only Kickboxing.
MM: What is your opinion on International rules Thai Boxing?
EH: For me it is the best because I do not like the elbows to the head. Knees to the head is good for me because I am so tall. It is the style that most Dutch fighters like!
MM: What have you gained from fighting or being a fighter?
EH: A lot of respect from people. Good health, good physical competition and a lot of experience in life. I have seen a lot of places. Holland, France, Hong Kong, Japan, America, Canada, everywhere in Europe. It made me complete as a person.
MM: How old are you now?
EH: 29.
MM: How much longer do you want to continue fighting?
EH: As long as the results are good, and my health is staying good.
MM: What are planning to do after you quit fighting? Are you going to become a trainer, or do something else?
EH: I want to keep doing something in Kickboxing. maybe a trainer, or managing fighters, or something like that. Maybe I want to do something for myself like own a business, but I am not sure exactly what I am going to do right now because I am focused on my fighting. I have started looking a little bit ahead, but I am not sure yet what I will do.
MM: Is there anybody right now that you desire to fight?
EH: Not really. Now I think I have got most of the good fighters in my weight and in my career. For me, I take every fight as a challenge. There is not a real opponent now that I would like to fight.
MM: How about Tasis Petridis from Australia?
EH: I fought him last year before the K-2. I won the fight by using knees.
MM: Petridis is acknowledged for not being very adept, as of yet, when fighting with the knees due to lack of experience.
EH: No he isn't. But he is very strong and a very difficult fighter. It was a very hard fight for me.
MM: Are you happy with everything you have achieved?
EH: Yes. The things that I have seen in the world, the places where I have went, the winning, and I have all the possible titles I could get with the last title from Rick Roufus. I got all the possible titles that I could get so for now I am very glad with everything I have achieved.
MM: What do you think can be done to make Thai Boxing or Kickboxing bigger and better in the eyes of the public?
EH: In Thai Boxing I think they have to get rid of the elbows. Knees to the head should only be allowed to the head for the A-Class fighters. New or amateur fighters should be better protected. Things like headgear. Protecting the beginner fighters is very important.
MM: I think that is a good idea too! What do you feel about the multitudes of sanctioning bodies like WKA, ISKA, IAMTF, PKC, FFKA and so on? What do you think about all of them sanctioning 3 or 4 different types of fighting in each division and in each organization?
EH: I think it is bullshit! For me there are 4 kinds of styles. There is Savate, MuayThai, Kickboxing and Full Contact Karate. Each one of these styles should only have one council or sanctioning body. Unfortunately everyone is making their own rules and their own titles, some World Titles are very important to me, like my last one. But most of the World titles I do not care too much about them. In my weight there may be three World Champions for the same kind of fighting, one from the WKA, the PKC, the ISKA. You know, I think there is too many and it is bad for the sport!
MM: Too many chiefs and not enough Indians.
EH: Yeah!
MM: How did you feel about your performance in the K-2 in Japan?
EH: I think it was very good. When I started my first fight against Manson Gibson.
MM: I do not think Manson Gibson is a very aesthetically pleasing fighter to watch, but he is really awkward and he gave you problems in that event forcing you into an extra round. How do you feel about that?
EH: He is a very smart fighter and he did the best he could against me. Also it was a problem because after the opening ceremony I should have had 10 minutes to warm up. I didn't get the 10 minutes, so I was cold when I went to the ring. So it was very difficult to start for me. But that is ok, I won the fight.
MM: That was probably your toughest fight in the event.
EH: Yes. I think so.
MM: Has he talked a rematch with you or fighting you again?
EH: I would like to fight him again because I was unhappy with my performance. I would like to fight him again to show him that when I am warmed up it will be a different type of fight for him.
MM: I want to talk to you about the K-2 from Holland. I have talked to several Dutch fighters and they all speak highly of you and respect you, but they state that the field of fighters in the K-2, especially the Dutch K-2 was weak. They state you won easily. They think that Peter Aerts K-1, both in Holland and Japan this year was a much more difficult feat for him than for you to win the K-2 in both places. How do you feel about that?
EH: When I fought in the first K-1 in Japan in 1993 against Aerts, I had the same problem. It was much more difficult for me to win after I beat Peter, because I had two very, very tough fights and I am sure I would not have lost to Branko Cikatic had he not had such an easy time making it to the finals. I felt I was the best fighter at that event. I admit it was not the best fighters that fought in the K-2 in Holland, but still I had to fight three fights and you have to win them all. After my first fight, I had an injury on my leg and I still had to fight two other fights. You have you win them convincingly even if your opponent is not as good as you. You cannot say he can beat you. The field of fighters in the K-1 of Holland was not that good either, in my opinion.
MM: Most of the Dutch fighters I have talked to have said that you are the best tournament fighter in the business. You fight very smart and you do not get hurt. From what I have seen I am also very impressed.
EH: I am a kind of person who does not like pain too much. I always try to avoid pain.
MM: Bob Schijber was over here training in my gym for awhile. You fought him in the Dutch K-2, how did that fight go?
EH: It was the K-2 final. I know I can be very sharp when I fight. For me it was just picking the right moment to catch him with a combination. He attacked me with a right jab and I slipped and hit him with a right jab and a left uppercut and he went down. And after that it was just a formality to knock him out. Bob is a good fighter and the kind of opponent who can win from everyone. He is very difficult to fight.
MM: This weekend he is fighting for the WKA World Cruiserweight MuayThai Title against Poljo from Germany. Have you fought Poljo before?
EH: No, but Bob and Poljo fought each other at the K-2 here in Holland and Bob won. It is just a rematch between them really.
MM: Getting back to Rick Roufus, for your match he weighed in at 90 kilograms I was told.
EH: Yes.
MM: Very heavy. So he did not have to lose anything?
EH: For me it was a little bit strange because my contract was for 86 kilos. He claims to have a contract with ISKA to fight between 86 and 89 kilos. So, he had to lose a kilo to get to 89 kilos. For me it was either do not fight or try to fight even if he was a little bit heavier. So I chose to fight him.
MM: You knocked him out in the eleventh round, right? What did you knock him out with?
EH: Yes! A right round kick to the head.
MM: I was told that he was out for twenty minutes.
EH: Yes. It was very nasty. It happened also with Cheungpuek Kiatsongrit in Japan at the K-2, and I do not like this kind of knockout. I like to knock someone out, but after the ten count I would like them to get up again.
MM: I have had all kinds of reports come to me from all over Europe with suspicions about Roufus on enhancing substances. Have you heard anything about this?
EH: I heard the rumor. I saw his body. He fought against Theriault in March at 81 kilos. Now in October he is weighing in at 90 kilos. I think he has gained very much weight in that short of a time. But, I do not say he used it. But the way he looked I think it is possible that he used some 'candy'.
MM: Can you pronounce your last name for me properly in Dutch?
EH: Host! My dad and my grand dad tell me my name used to be spelled Hoast.
MM: Thank you for your time! Good luck to you in the future with your career. I will be coming to Holland in 1995 and I hope we get a chance to sit down and talk again.
EH: Anytime. Thank you Mike.